Magic Lucky Stars – They Bring You Magic And A Lucky Vibe
Elite Business Ads
Click on the images to see how your Magic Lucky Star will look like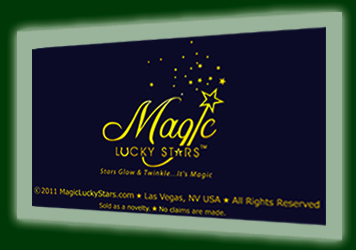 There is only one man in USA who can make the Magic Lucky Stars. His name is Rip. He has learned an art of making magic cards that bring luck to whomever possess them.  They bring great luck, empower your mind with inspiration and spread the positive vibrations in your place of living or working.
Each Magic Lucky Stars card is 100% unique. Mr. Rip has never mad two identical cards. No two are exactly alike. Magic Lucky Stars glow in the dark for hours and literally "twinkle", like the real night sky. You've never seen anything like it!
If you expose Magic Lucky Stars to light from any source, then view them in the dark, it's magical…
Click on the images to see how your Magic Lucky Star will look like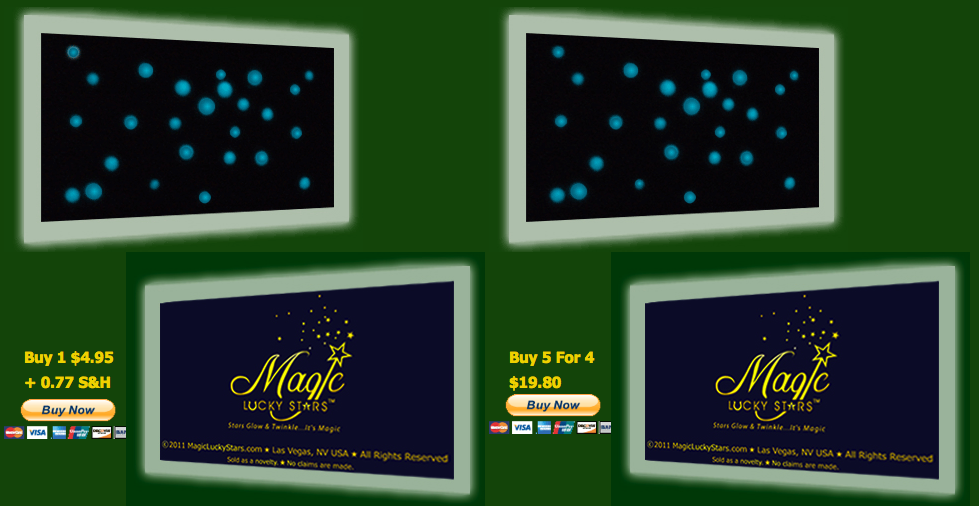 Magic Lucky Stars are believed to help its owner in:
Bringing more good luck
Feeling more positive
Build inspiration
Relaxing the mind
Having more fun
More magic…
Every laminated Magic Lucky Stars card is a self regenerating perpetual engine that will glow virtually forever. Magic Lucky Stars have been reported to bring much truly positive force due to their magical force. They act  with much benefit, creating hope and awesome wonder.


Magic Lucky Stars is one of the best ideas for your holidays gifts, birthday surprises, anniversaries, weddings, and for many other occasions. It's a gift that will put smiles on the faces of those whom you love and appreciate. It will put smile on your face too. More often than you know.
You'll be thanking your Magic Lucky Stars.
For more information click here.
Elite Business Ads