Frozen Movie And Original Soundtrack
Absolute record in the movies…
FROZEN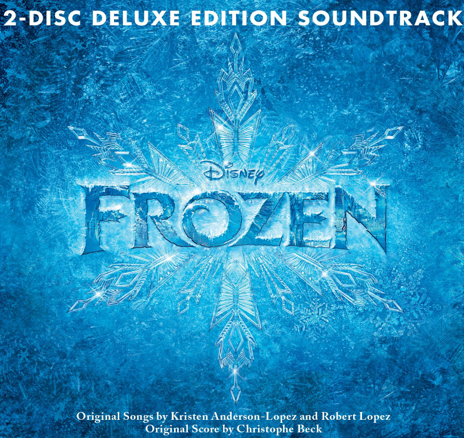 Many want to have the original soundtrack of the movie and here it is:
Frozen [Soundtrack, Deluxe Edition] includes:
Track Listings
Disc: 1
1. Frozen Heart (Performed by Cast)
2. Do You Want to Build a Snowman? (Performed by Kristen Bell, Agatha Lee Monn and Katie Lopez)
3. For the First Time in Forever (Performed by Kristen Bell and Idina Menzel)
4. Love Is an Open Door (Performed by Kristen Bell and Santino Fontana)
5. Let It Go (Performed by Idina Menzel)
6. Reindeer(s) Are Better Than People (Performed by Jonathan Groff)
7. In Summer (Performed by Josh Gad)
8. For the First Time in Forever (Reprise) (Performed by Kristen Bell and Idina Menzel)
9. Fixer Upper (Performed by Maia Wilson and Cast)
10. Let It Go (Demi Lovato Version) (Performed By Demi Lovato)
11. Vuelie (Featuring Cantus) (Score)
12. Elsa and Anna (Score)
13. The Trolls (Score)
14. Coronation Day (Score)
15. Heimr Àrnadalr (Score)
16. Winter's Waltz (Score)
17. Sorcery (Score)
18. Royal Pursuit (Score)
19. Onward and Upward (Score)
20. Wolves (Score)
21. The North Mountain (Score)
22. We Were So Close (Score)
23. Marshmallow Attack! (Score)
24. Conceal, Don't Feel (Score)
25. Only An Act of True Love (Score)
26. Summit Siege (Score)
27. Return to Arendelle (Score)
28. Treason (Score)
29. Some People Are Worth Melting For (Score)
30. Whiteout (Score)
31. The Great Thaw (Vuelie Reprise) (Score)
32. Epilogue (Score)
Disc: 2
1. For the First Time in Forever Demo
2. Love Is an Open Door Demo
3. We Know Better Outtake
4. Spring Pageant Outtake
5. More Than Just the Spare Outtake
6. You're You Outtake
7. Life's Too Short Outtake
8. Life's Too Short (Reprise) Outtake
9. Reindeer(s) Remix Outtake
10. The Ballad of Olaf & Sven (Teaser Trailer) Score Demo
11. Queen Elsa of Arendelle Score Demo
12. Hans Score Demo
13. It Had to Be Snow Score Demo
14. Meet Olaf Score Demo
15. Hands for Hans Score Demo
16. Oaken's Sauna Score Demo
17. Thin Air Score Demo
18. Cliff Diving Score Demo
19. The Love Experts Score Demo
20. Elsa Imprisoned Score Demo
21. Hans' Kiss Score Demo
22. Coronation Band Suite Source Score
23. Let It Go Instrumental Karaoke
Walt Disney Animation Studios' 'Frozen' features eight original songs from Kristen Anderson-Lopez ('In Transit,' 'Winnie the Pooh') and Tony Award-winning songwriter Robert Lopez ('Avenue Q,' 'The Book of Mormon'), plus a phenomenal score by the composer of last year's Oscar-winning short 'Paperman,' Christophe Beck.
The original motion picture soundtrack, which features the end-credit recording of 'Let It Go' by Demi Lovato as well as performances by Kristen Bell, Idina Menzel, Josh Gad, Jonathan Groff and more, is available for sale on Nov. 25, 2013. Directed by Chris Buck ('Tarzan,' 'Surf's Up') and Jennifer Lee (screenwriter, 'Wreck-It Ralph'), who also wrote the screenplay, and produced by Peter Del Vecho ('Winnie the Pooh,' 'The Princess and the Frog') 'Frozen' hits theaters in 3D on Nov. 27, 2013.
Get the movie too!
A sweet, magical film filled with great music, likable characters, and striking effects, Frozen is a fairy tale about overcoming obstacles and the power of true love. Princesses Anna and Elsa are sisters and the closest friends until one day Elsa discovers that she can no longer control her power to create ice and snow. Terrified for the safety of her sister and everyone around her, Elsa isolates herself and vows to never feel any sort of passionate emotion again in hopes of suppressing her powers. But when Elsa comes of age and is set to be crowned queen, she must open the gates of the palace and let in the public, not to mention her sister Anna…. more