The Writer And The Quail
The Writer And The Quail
by Karen O'Toole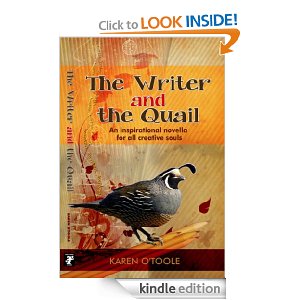 Amazing book by Karen O'Toole for those who try to rekindle their writing or artistic talents. It tells the humorous yet profound story about the writer who lost creative inspiration for writing and her way out of creative slump with the help of an unusual friend who seems to read through her mind and feelings.
Every artist or writer knows when it happens – the PAUSE BUTTON – the creativity blocked for a day, weeks or even more. As if your good writer karma has come to an end.
But while the mind of the writer is carried away by the unpredicted events of life, the lava of creativity, lurking beneath the surface of every-day existence, waits for that twitch in the dark, which will set in motion the eruption of imaginations, inspiration and ideas, illuminating the mind again.
Throughout the book, reader will appreciate inspiring, poignant story that installs deep feelings of appreciation for powerful process of transformation through empowering oneself as a writer to move beyond self-limitating states of consciousness.
Once you start reading, the book carries you into inner world of a struggling writer, who, with the help of divine intervention, discovers true values and wealth of being human being.
The book "The Writer And The Quail" is written beautifully, with healthy doses of amusement, wise adages (five birds sitting on a telephone wire being one of the favorites) and dignified wisdom.
In the last chapter Karen O'Toole takes us into wonderland of heart-changing experience, which inspires, motivates and divinely empowers. She shows us how any of us can be a lone quail in need of compassion and love.
ABOUT THE AUTHOR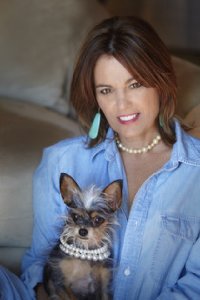 Karen (REMY) O'Toole won the presitgious Academy of Motion Picture Arts and Sciences' Nicholl Fellowship for screenwriting and she is a member of the Writer's Guild of America.
Her animal rescue work has been featured in the books: Rescued: Saving Animals From Disaster, and Angelic Tales. She is also featured in the Katrina documentary MINE, plus has been an animal spokesperson on CBS, FOX, NBC, and ABC.
Click on the picture for the full bio.

You can order this fantastic book from Amazon.com by clicking on the book cover bellow.